Barstool Classic Event #1: Wollaston
Leaderboard
Subject to Change
| Pos | Players (Team) | Total | Thru |
| --- | --- | --- | --- |
| 1* | 🇺🇸 S. McReynolds / 🇺🇸 P. McNulty Jr. (BCGOLFER04) | -5 | F |
| T2* | 🇺🇸 C. Rumul / 🇺🇸 M. Wiseman (Astrovan Allstars) | -3 | F |
| T2* | 🇺🇸 S. McLaughlin / 🇺🇸 M. Horton (Team McLaughlin and Horton) | -3 | F |
| T4* | 🇺🇸 J. Isner / 🇺🇸 M. Burke (The Hosel Rockets) | -1 | F |
| T4* | 🇺🇸 T. Wehr / 🇺🇸 G. Gullans (Kielbasa Boys) | -1 | F |
| 6* | 🇺🇸 B. Dion / 🇺🇸 S. Dion (Team Dion) | +1 | F |
| T7 | 🇺🇸 J. Zoll / 🇺🇸 M. Zoll (Duff Duff Shank) | +2 | F |
| T7 | 🇺🇸 L. Schneider / 🇺🇸 B. Singer (Goin' to the Ship) | +2 | F |
| T7 | 🇺🇸 B. Bryant / 🇺🇸 B. Rowe (Willowbend) | +2 | F |
| T7 | 🇺🇸 B. Sweeney / 🇺🇸 P. Sweeney (Third Street) | +2 | F |
| T11 | 🇺🇸 M. Kinchla / 🇺🇸 E. Robinson (Scrambling Bogeys) | +3 | F |
| T11 | 🇺🇸 D. Koerner / 🇺🇸 D. Koerner (Koerner) | +3 | F |
| T11 | 🇺🇸 R. Manley / 🇺🇸 M. Manley (Team Manley) | +3 | F |
| T11 | 🇺🇸 K. Rogers Coppins / 🇺🇸 S. Adams (Truly Milton Tough) | +3 | F |
| T15 | 🇺🇸 J. DiFederico / 🇺🇸 C. Mahoney (Moho Daggerino) | +4 | F |
| T15 | 🇺🇸 K. Josephson / 🇺🇸 J. Marzi (GOP) | +4 | F |
| T15 | 🇺🇸 Z. Dearth / 🇺🇸 A. Miranda (Dro And Zach) | +4 | F |
| T15 | 🇺🇸 F. Deichert / 🇺🇸 R. Owen (Angry Birds) | +4 | F |
| T19 | 🇺🇸 D. Biscoe / 🇺🇸 D. Greaney (Three Putt Par) | +5 | F |
| T19 | 🇺🇸 J. Hanson / 🇺🇸 M. Nardone (The Bogey Brothers) | +5 | F |
| T19 | 🇺🇸 N. Reusch / 🇺🇸 J. Kattar (Four Corners) | +5 | F |
| T22 | 🇺🇸 J. Renda / 🇺🇸 J. Dabrieo (PISTOLS) | +6 | F |
| T22 | 🇺🇸 J. Downing / 🇺🇸 P. Eleey (Thinly Sliced) | +6 | F |
| T22 | 🇺🇸 G. Long / 🇺🇸 B. Jacques (Two Guys, 18 Cups) | +6 | F |
| T22 | 🇺🇸 A. Castellano / 🇺🇸 J. Castellano (Dirty Birdies) | +6 | F |
| T26 | 🇺🇸 J. McNaught / 🇺🇸 T. Killeen (Mount Hood) | +7 | F |
| T26 | 🇺🇸 M. Antolini / 🇺🇸 C. Young (Melrose Place) | +7 | F |
| T26 | 🇺🇸 M. Mottola / 🇺🇸 J. Durkin (Quasi's) | +7 | F |
| T26 | 🇺🇸 R. Marsh / 🇺🇸 M. Bruyette (The CCoS Boys) | +7 | F |
| T26 | 🇺🇸 A. Manganaro / 🇺🇸 N. Duva (Butterslice) | +7 | F |
| T26 | 🇺🇸 M. Stanton / 🇺🇸 L. DeGennaro (Call Her Caddie) | +7 | F |
| T26 | 🇺🇸 M. Dondero / 🇺🇸 E. Loh (Swag Dads) | +7 | F |
| T26 | 🇺🇸 B. McCafferty / 🇺🇸 B. McCafferty (Bmacs for Birdie) | +7 | F |
| T34 | 🇺🇸 W. Sanborn / 🇺🇸 T. Sanborn (Sanborn Bros) | +8 | F |
| T34 | 🇺🇸 B. Lawler / 🇺🇸 E. Quinn (Knee Knockers) | +8 | F |
| T34 | 🇺🇸 M. Christ / 🇺🇸 R. Noord (Ron's Belt) | +8 | F |
| T37 | 🇺🇸 A. Chicoine / 🇺🇸 D. Moran (Birdmen) | +9 | F |
| T37 | 🇺🇸 F. Yavorosky / 🇺🇸 J. Rooney (Miltons Pimp My Hook) | +9 | F |
| T39 | 🇺🇸 C. Risner / 🇺🇸 C. Wright (Boys from the South) | +10 | F |
| T39 | 🇺🇸 M. Lord / 🇺🇸 D. Wotherspoon (Lord Wotherspoon) | +10 | F |
| T39 | 🇺🇸 A. Parker / 🇺🇸 R. Piccinin (Team OYG) | +10 | F |
| T39 | 🇺🇸 C. Shirley / 🇺🇸 R. Green (No Noise in Illinois) | +10 | F |
| 43 | 🇺🇸 J. Bigda / 🇺🇸 D. Ryan (Pull Hook) | +11 | F |
| 44 | 🇺🇸 W. Richmond / 🇺🇸 P. Maxey (Maxey - Richmond) | +12 | F |
| 45 | 🇺🇸 T. Johnson / 🇺🇸 J. Klingensmith (Taylor And Joe) | +13 | F |
| 46 | 🇺🇸 B. Sung / 🇺🇸 P. Patel (MSPCA-Angell) | +15 | F |
| 47 | 🇺🇸 K. O'Connell / 🇺🇸 S. Porng (Sandbaggers) | +16 | F |
| 48 | 🇺🇸 D. Bashaw / 🇺🇸 B. Aldrich (Hairy Knuckles) | +21 | F |
| 49 | 🇺🇸 E. Sassoon / 🇺🇸 J. Saff (Sassoon Saff) | +22 | F |
| DNP | 🇺🇸 D. Coppola / 🇺🇸 A. Darsch (Canes) | - | F |
| DNP | 🇺🇸 S. Shaughnessy / 🇺🇸 P. Daly (No Free Trulys) | - | F |
| DNP | 🇺🇸 A. Gibson / 🇺🇸 A. Ouligian (The Sultans of Swing) | - | F |
| DNP | 🇺🇸 T. Cole / 🇺🇸 G. Quadrini (Truly Asskickers) | - | F |
| DNP | 🇺🇸 B. Kelly / 🇺🇸 R. Sillery (Viva La Truly) | - | F |
Ben Bryant (Brookline, MA) & Brendan Rowe (Boston, MA)
Former roommates - Brendan lives in South Boston and played golf for Bryant University. Ben lives in Brookline. Both are members at Willowbend on Cape Cod.
Brenden Dion (Woodstock, CT) & Stephen Dion (Natick, MA)
Team Dion consists of 2 Cousin's. Stephen hailing from Natick Mass who is best known on the golf course for slicing his putts. The second member of the team is Brenden from Woodstock CT, he is best known on the golf course for wearing shorts no matter what time of the year it is.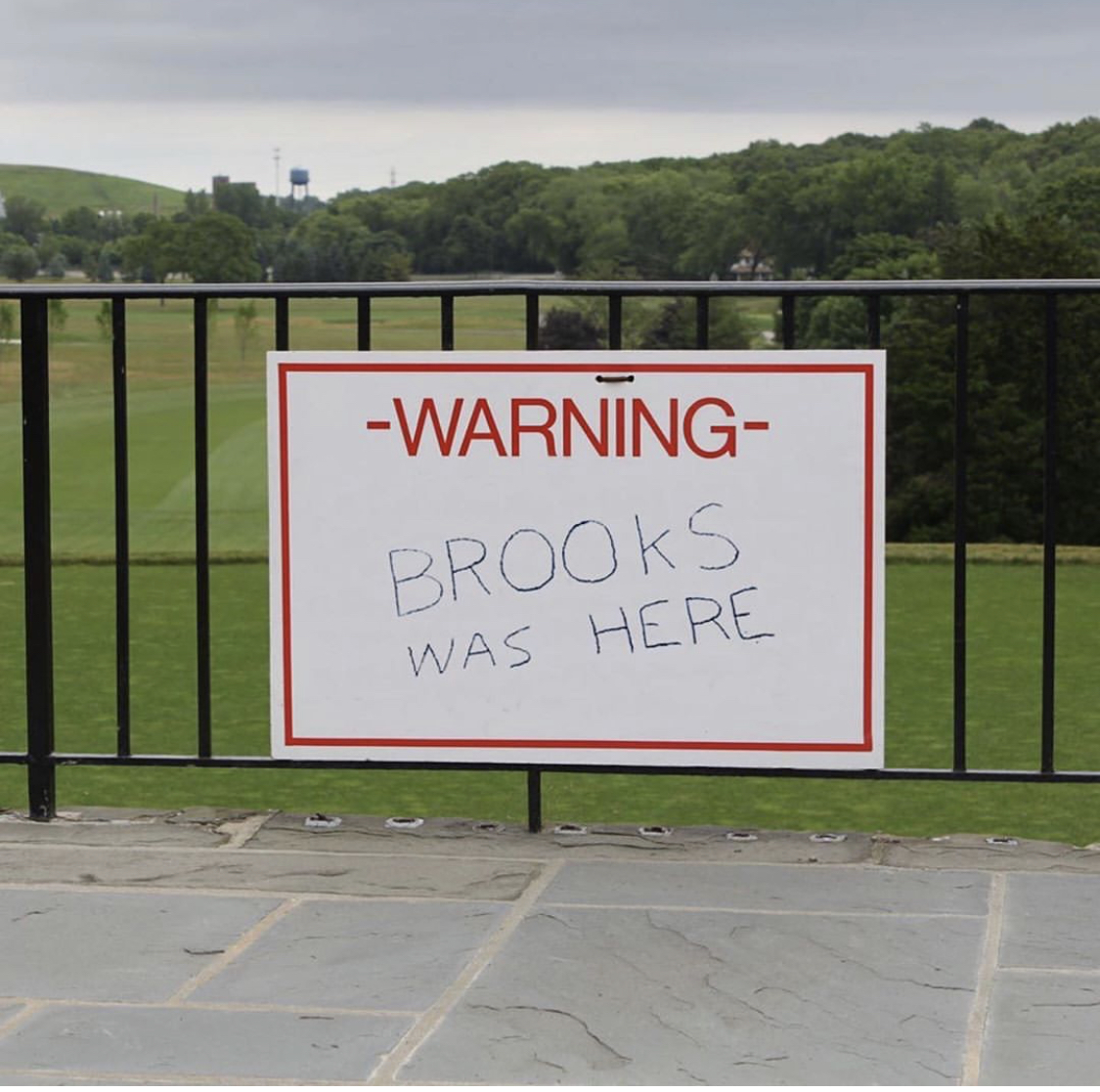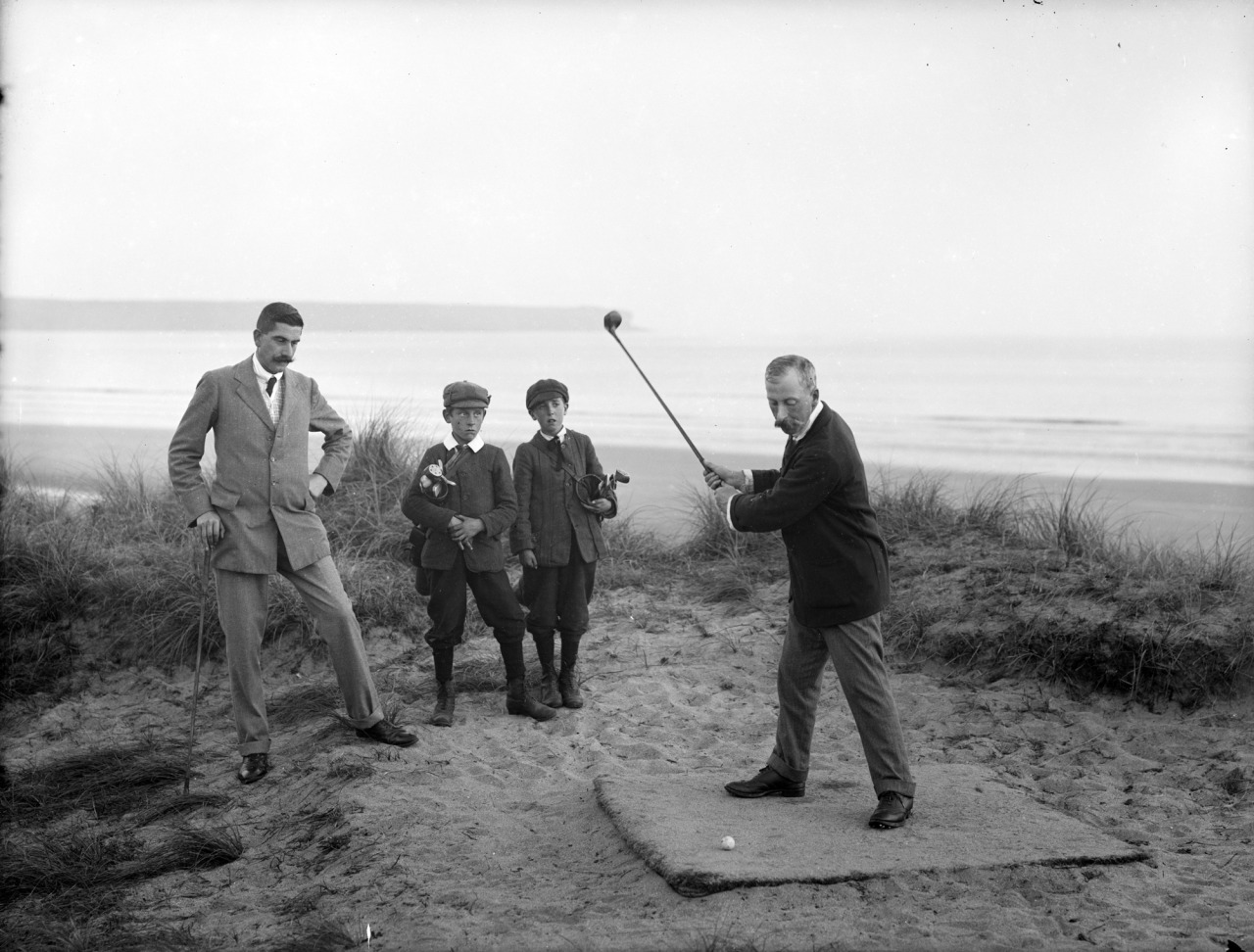 Brendan McCafferty (Belmont, MA) & Brian McCafferty (Lexington, MA)
Two former athlete brothers looking to regain some glory on the golf course while avoiding a day of work.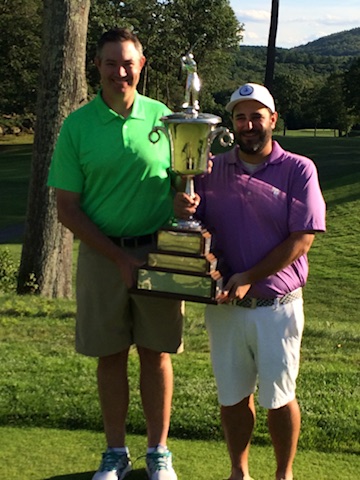 Josh Isner (Scottsdale, AZ) & Marty Burke (Canton, MA)
Fallon Cup champs coming for more glory. Marty works for Golf Pride, Josh tases people.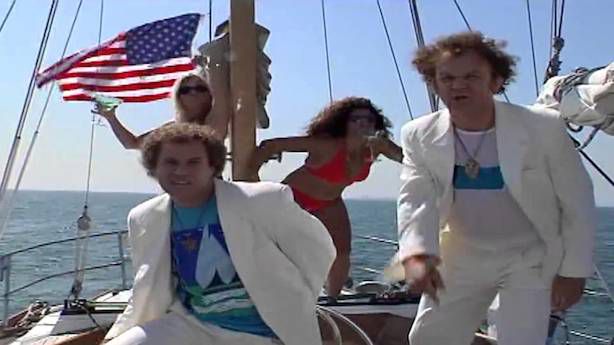 David Coppola (Boston, MA) & Andrew Darsch (Norwell, MA)
Golf.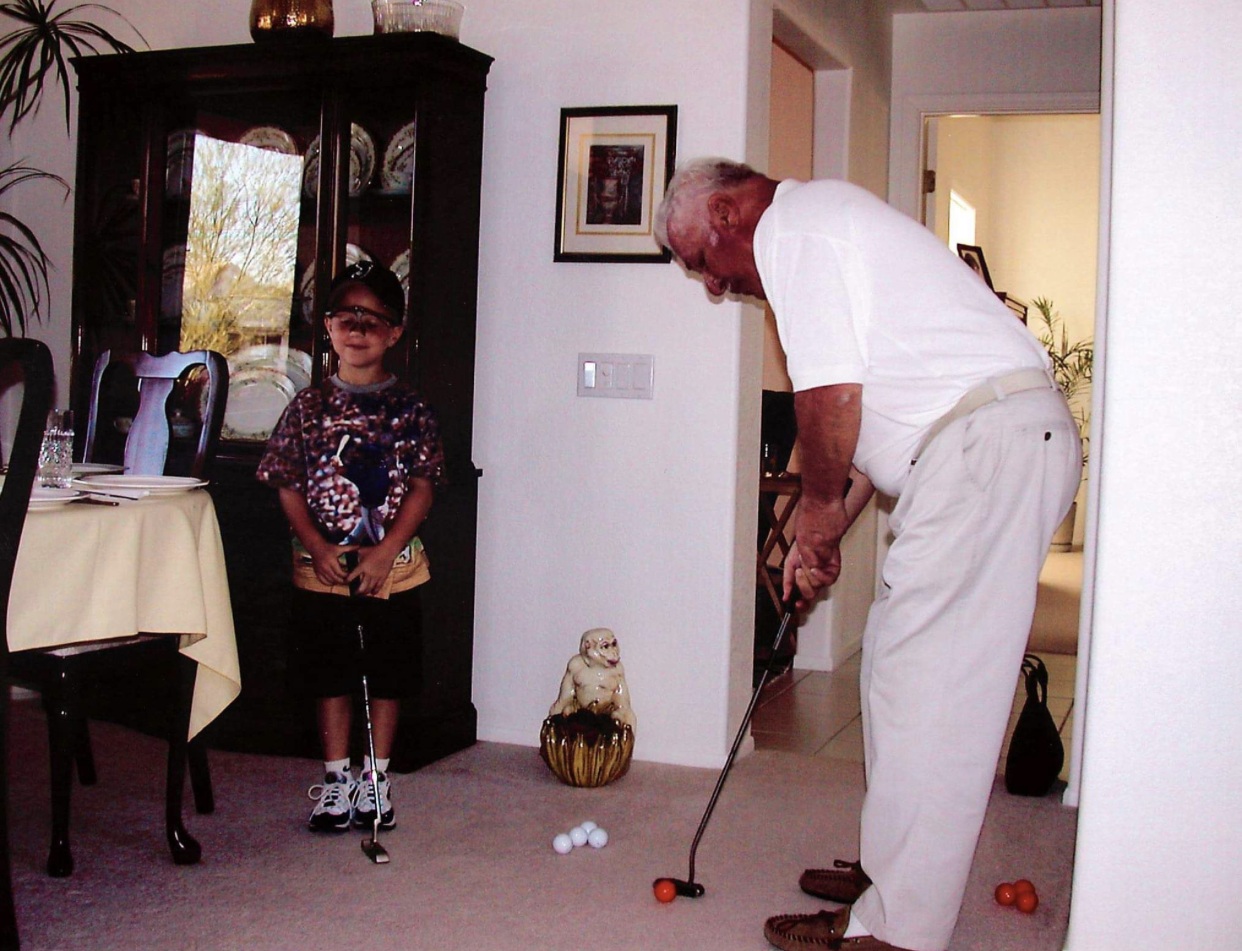 Father son duo from Chicago traveling to Boston to take home some hardware.
Two Brooklyn born Jews who have been there with barstool from day one.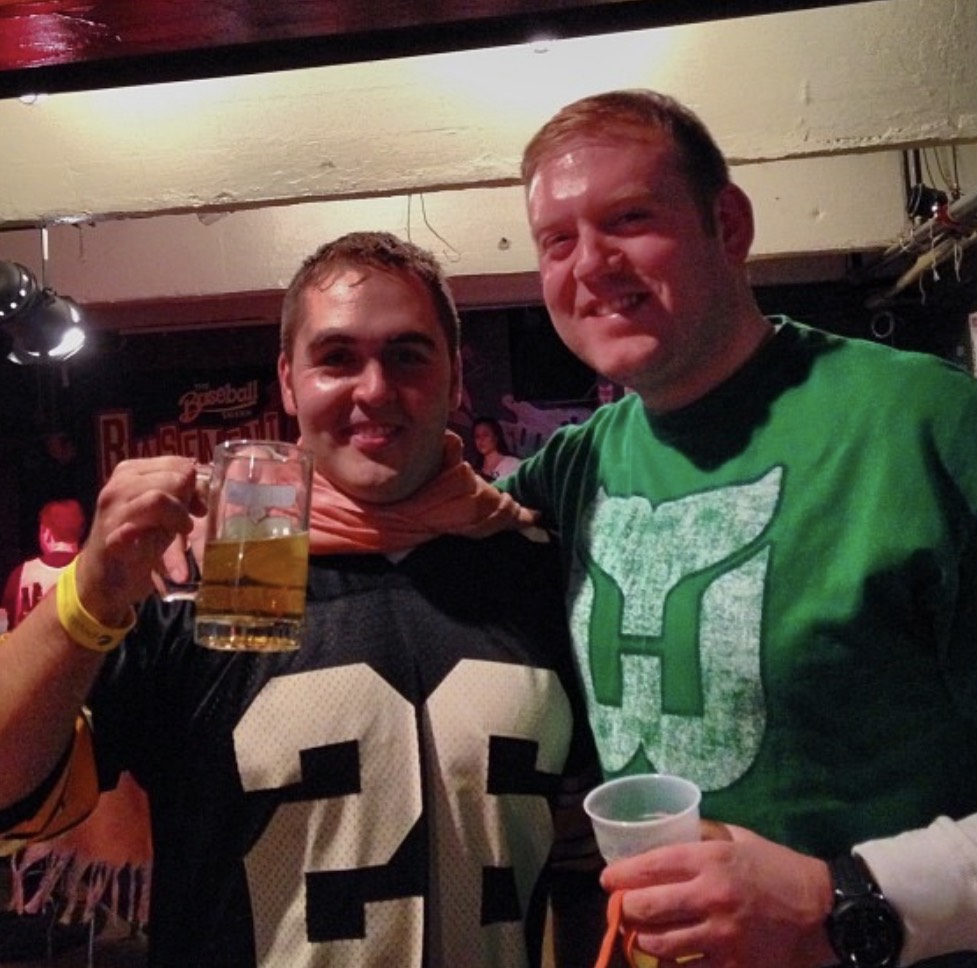 Zach Dearth (Lynnfield, MA) & Alejandro Miranda (Milton, MA)
One is North Shore trash, the other is South Shore elite.
Max Christ (Milton, MA) & Ryan Noord (Milton, MA)
Platinum Members representing the Ron's Belt Invitational: A Collection of Revered Gentlemen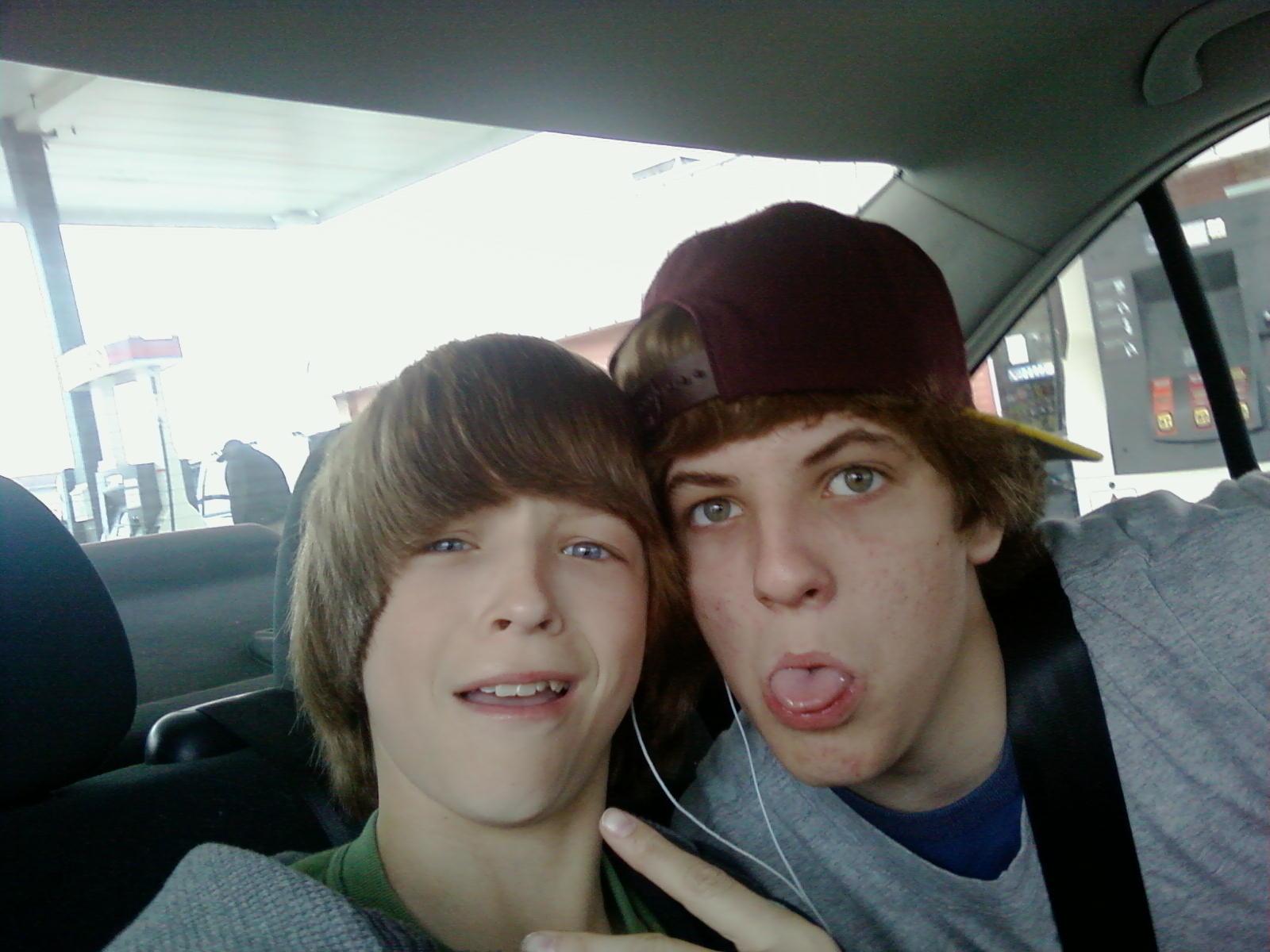 Will Sanborn (Exeter, NH) & Taylor Sanborn (Portsmouth, NH)
Big time vest guys. Members at The Ledges Golf Club in York, Maine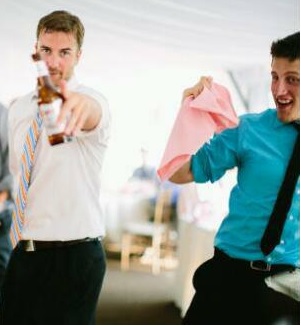 Frank Yavorosky (Fitchburg, MA) & John Rooney (Leominster, MA)
John Rooney
-IFAF Team USA Flag Football World Champion
-Washed up baseball player
-3rd Place Monoosnock Club Championship '18
-Professor of High School Mathematics
-Doesn't believe in rainbows
-"I find calling it a 'Handicap' socially unacceptable"- Anonymous

Frank Yavorosky
-Snubbed 2nd Team All-MASCAC Team Baseball '11
-Washed up baseball player
-Caddy to 3rd Place Monoosnock Club Championship Participant '18
-Fake Doctor
-Always wears sunscreen, not worth going against the sun
-"Life's too short to bet the under" - Barstool Advisors
David Koerner (Hampton, NH) & Daniel Koerner (Reading, MA)
Two brothers, one goal.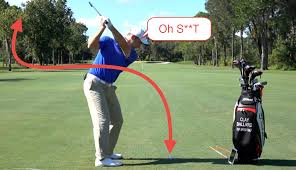 Joe Bigda (Boston, MA) & Derek Ryan (Framingham, MA)
Two dads who are bad at golf.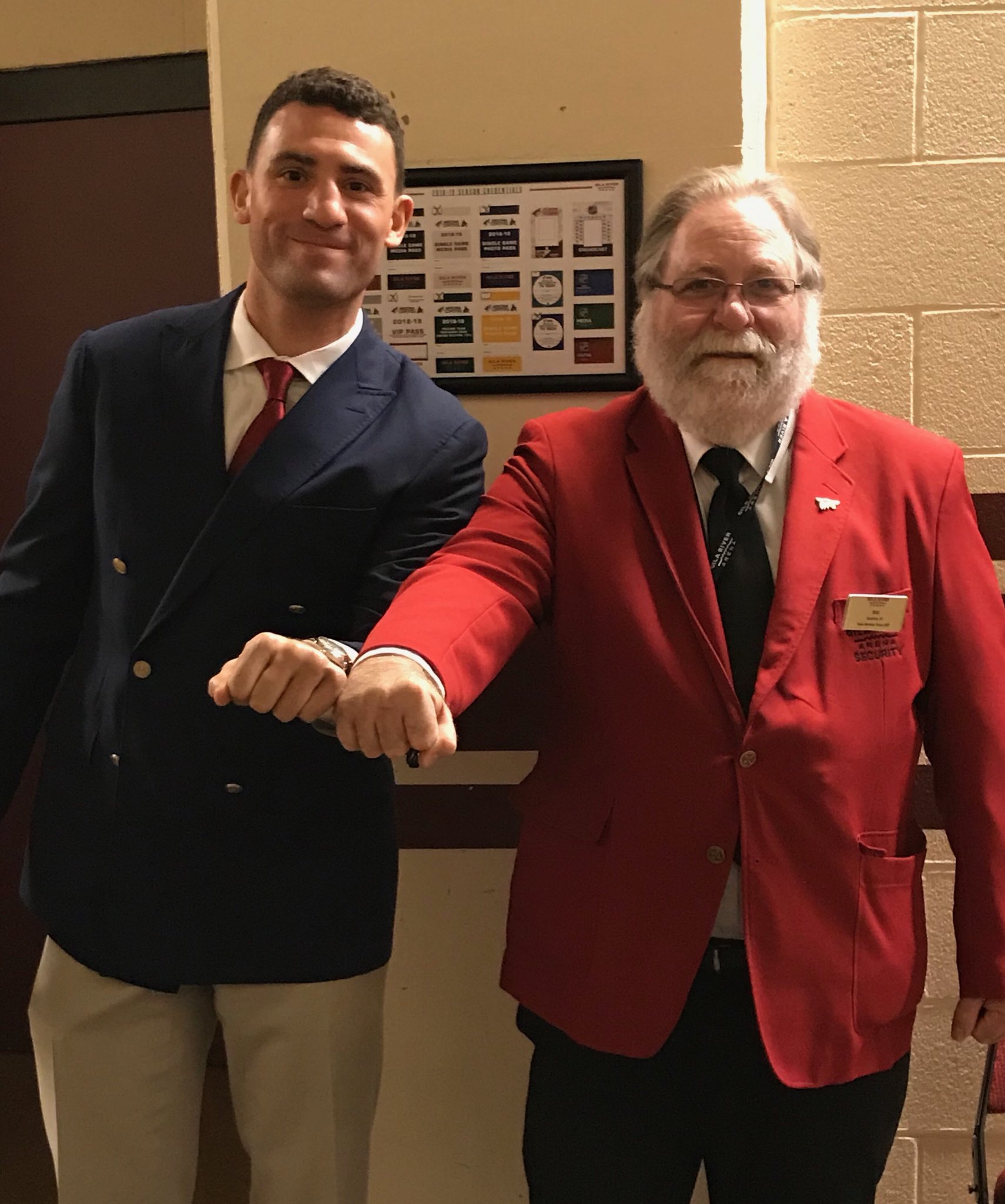 Daniel Bashaw (East Greenwich, RI) & Benjamin Aldrich (Rumford, RI)
Just two beauty's from Rhode Island who love to swing the wrench's. One is a former club hockey stay at home defensemen at a tech school who got his chiclets knocked out in a deck hockey summer league. The other an aspiring law enforcement officer, what he lacks in height he makes up for with his chirping. Life long Stoolies looking to clean up at Wolly World.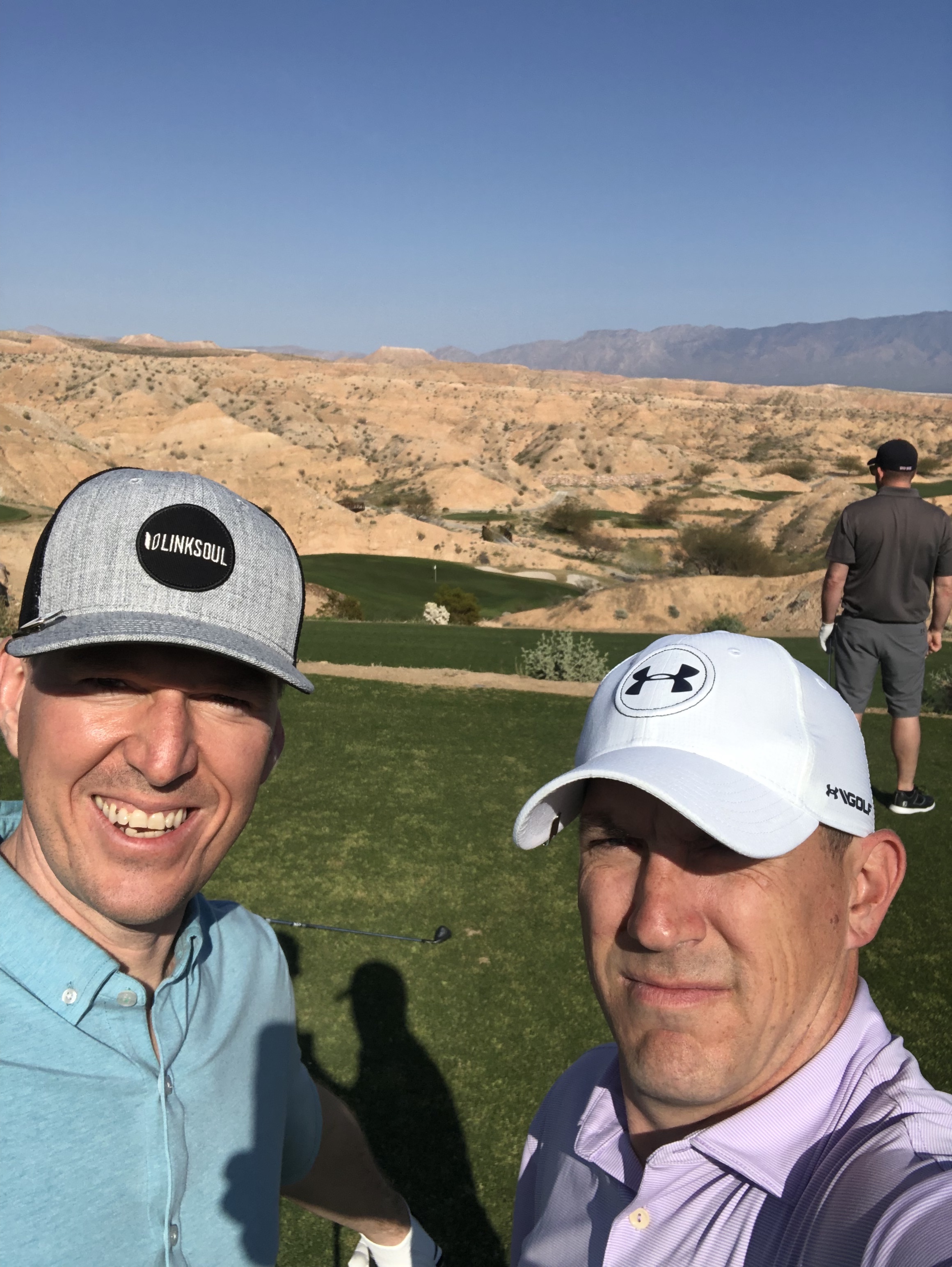 Michael Lord (Truro, MA) & Darren Wotherspoon (Wellfleet, MA)
A couple hackers from the Cape. Raising families, working, and golfing. Not always in that order.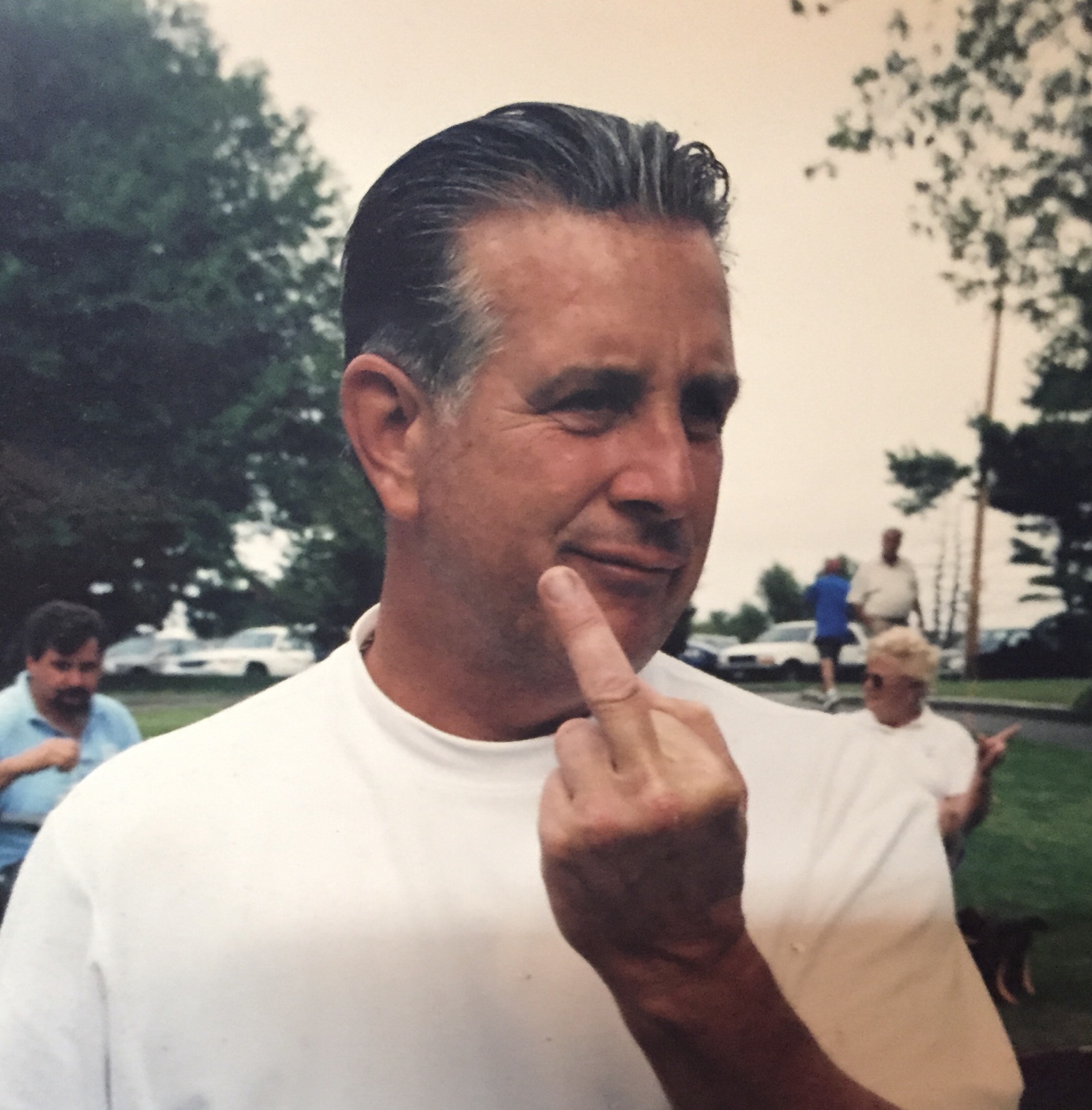 Nick Reusch (Salem, NH) & Jesse Kattar (Methuen, MA)
Couple bros who grew up playing at the Mack.
Kevin Josephson (Unionville, CT) & Jimmy Marzi (Berlin, CT)
Teammates for over a decade. Looking for our "hello world" moment on golf's grandest stage. 2014 Member-Member champs, countless runner ups and scramble wins since. Looking to build some momentum over the next month with weekend cash games at The Hill. 6/3 send is on the way.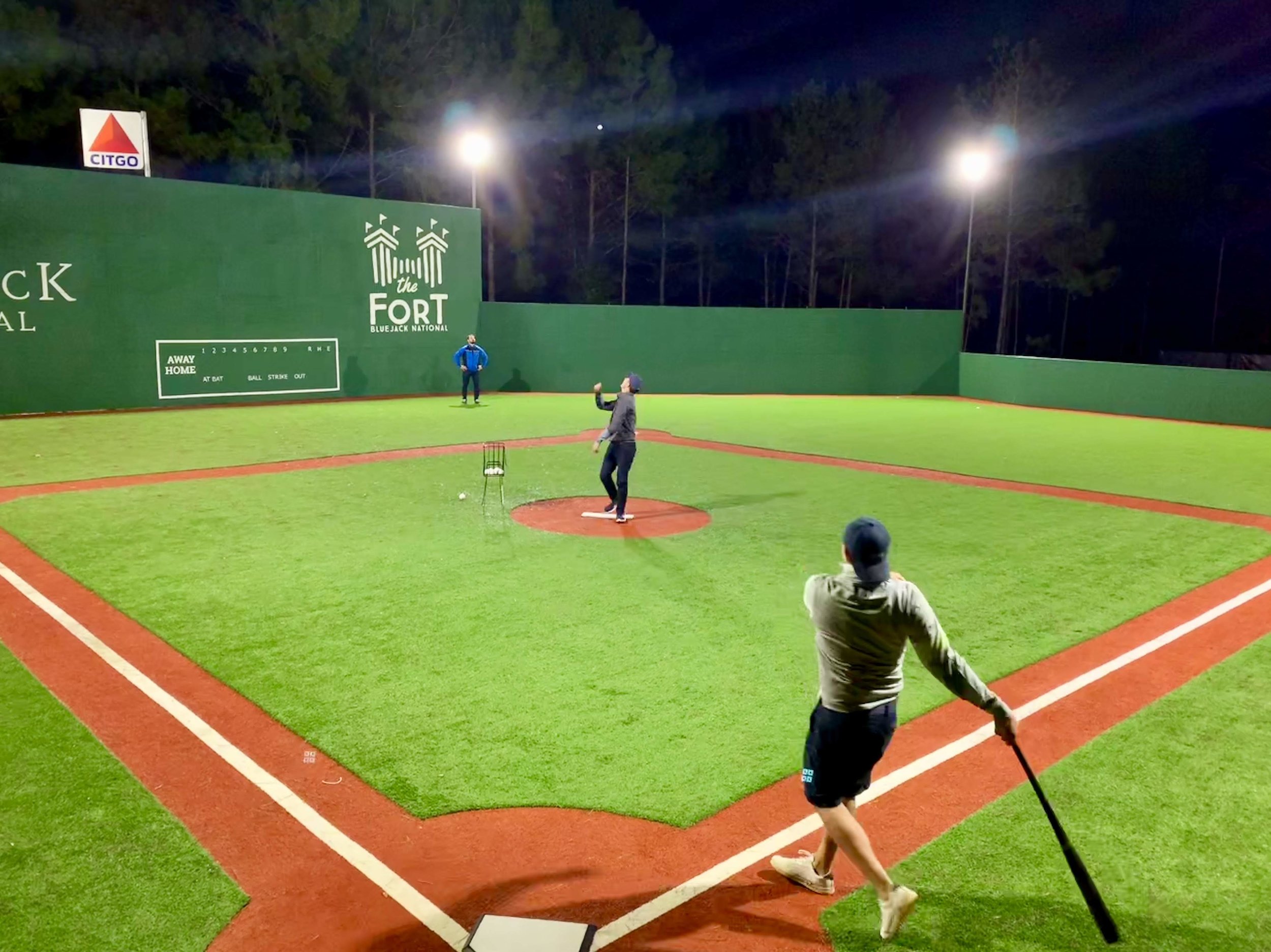 Mike Antolini (Bethesda, MD) & Chris Young (Salem, MA)
Former Mt. Hood GC junior club champ & 6th runner up.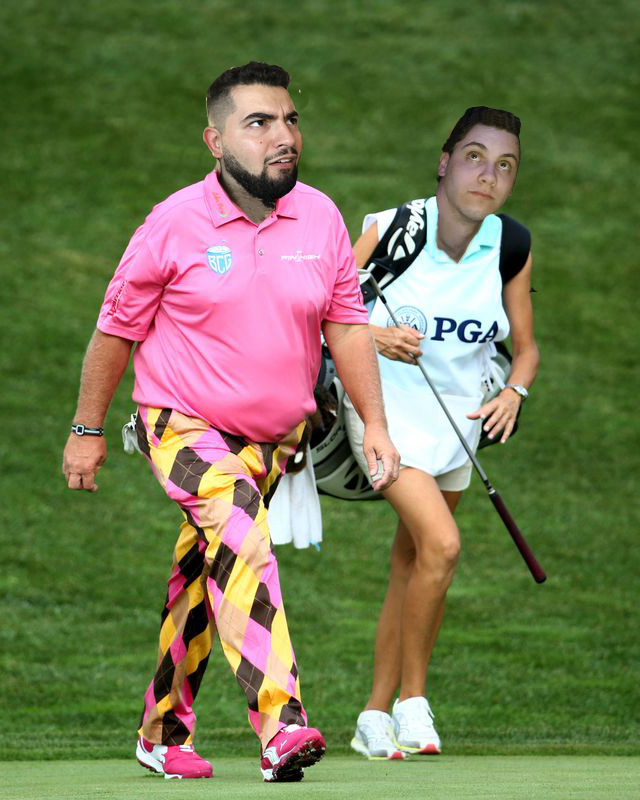 Anthony Manganaro (North Attleboro, MA) & Nick Duva (Manchester, NH)
A true tale of determination, grit, and perseverance.

Anthony and Nick first met their freshman year of high school where they were cut from the team. Anthony has just gotten his wisdom teeth out and Nick was, well, check his handicap. Being cut devastated Anthony and Nick, but they were determined. Determined to play for their prestigious D2 high school. They came back harder than ever and became known as what can only be called the Dynamic Duo. From marking putts with tins of Grizzly long cut to chirping each other's sisters in competition, they truly were the team to beat.

Since that time, they have become weekend warriors where they display their talents at Kirkbrae Country Club and Windham Country Club.

Team Butterslice is most excited to get a chance to chirp Frankie about his wedges.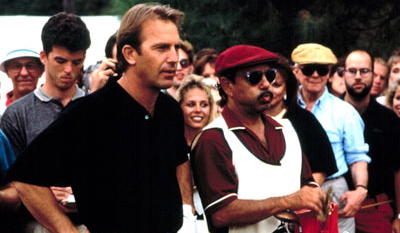 Joe Downing (Boston, MA) & Peter Eleey (Boston, MA)
Roy "Tin Cup" McAvoy is a former golf prodigy who has little ambition. He owns a driving range in West Texas, where he drinks and hangs out with his pal Romeo Posar and their friends. Dr. Molly Griswold a clinical psychologist, wants a golf lesson. She asks Roy because he knows her boyfriend David Simms, a top professional golfer. They were both on the golf team at the University of Houston. Roy is immediately attracted to Molly, but she sees through Roy's charm and resists.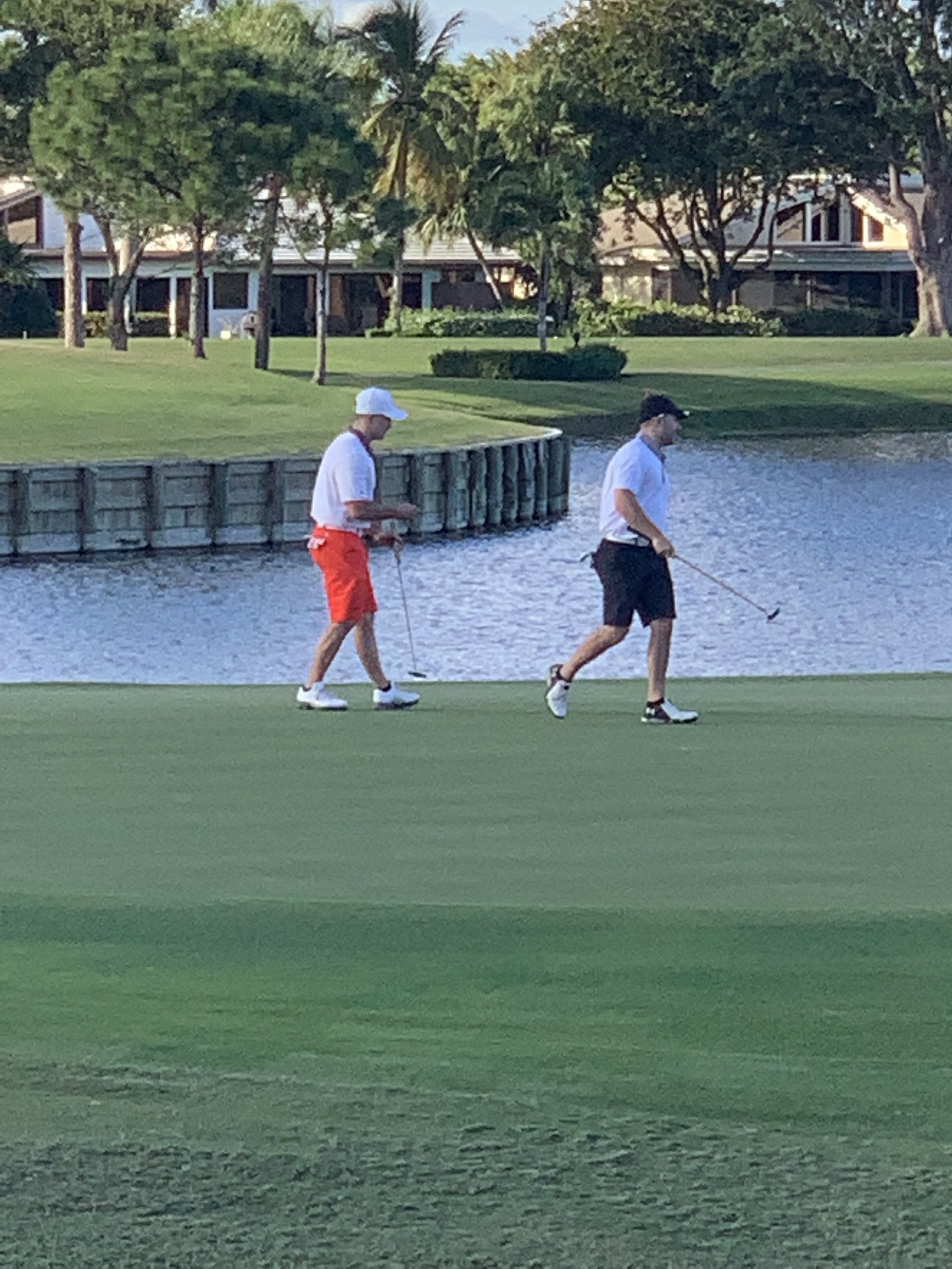 Anthony Castellan0 (Wilmington, MA) & Joe Castellano (Wilmington, MA)
We just really want to win.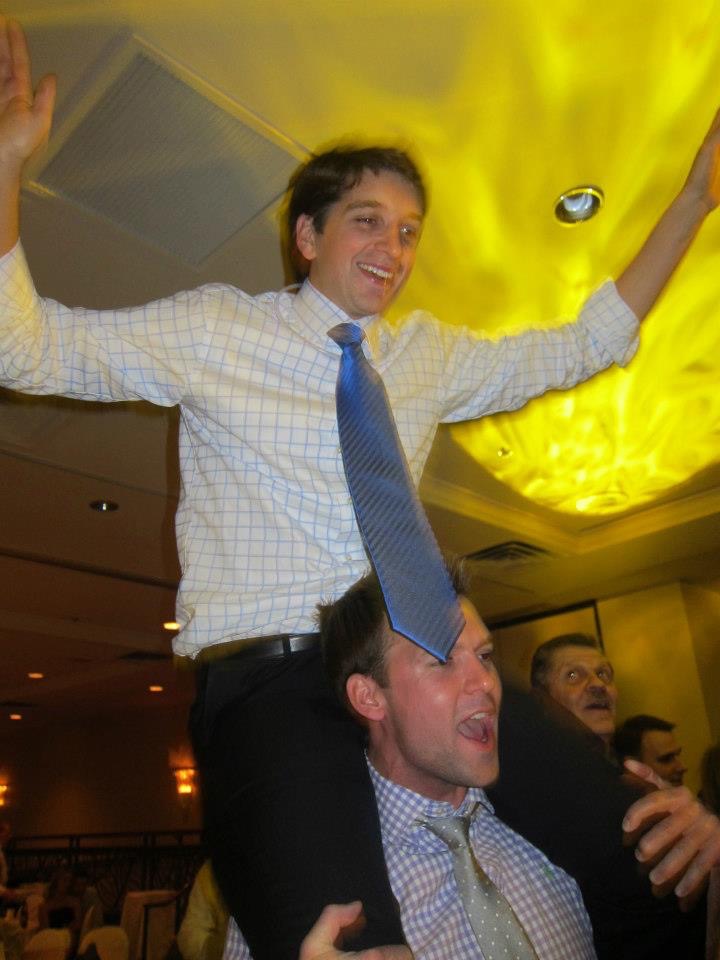 Tom Wehr (Canton, MA) & Graham Gullans (Somerville, MA)
Friends for almost half their lives, the Kielbasa boys have played a lot of golf together over the years, mostly on opposite sides. Back in Boston now it's time to combine to win something together.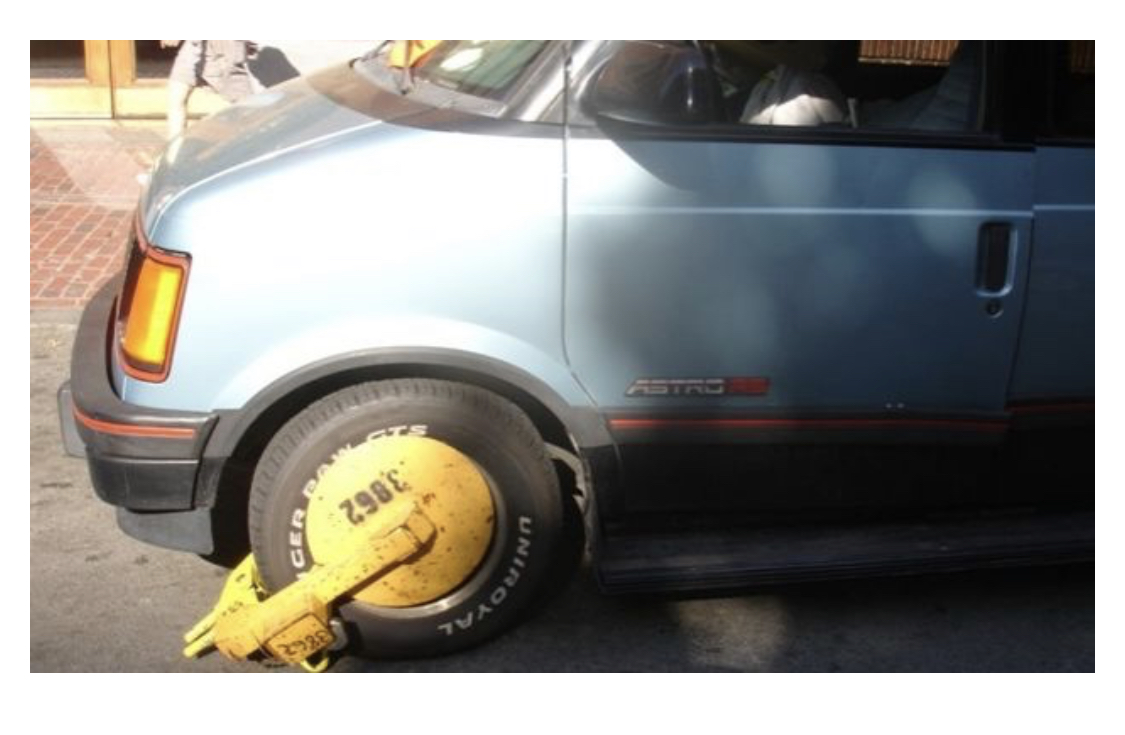 Chris Rumul (Medfield, MA) & Mike Wiseman (Milton, MA)
Rum and Wiseman.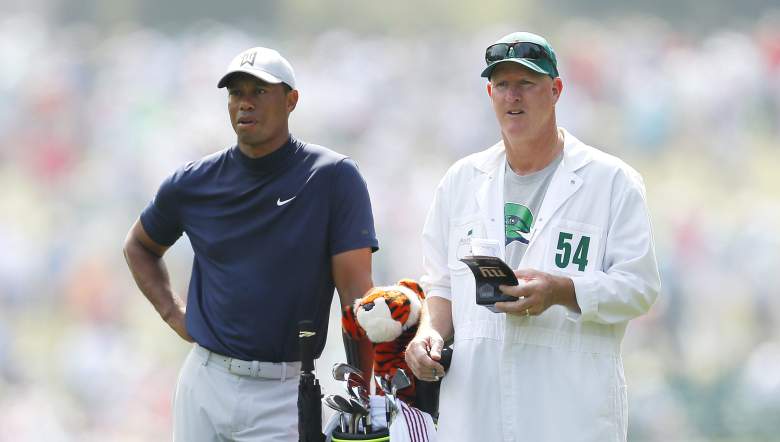 Mike Stanton (Cromwell, CT) & Louis DeGennaro (Woodbridge, CT)
Duo comprised of Mike and Louis.
Jack Hanson (Norton, MA) & Mark Nardone (Andover, MA)
Two brothers that make bogeys on hole 18 and drink brewskis on hole 19.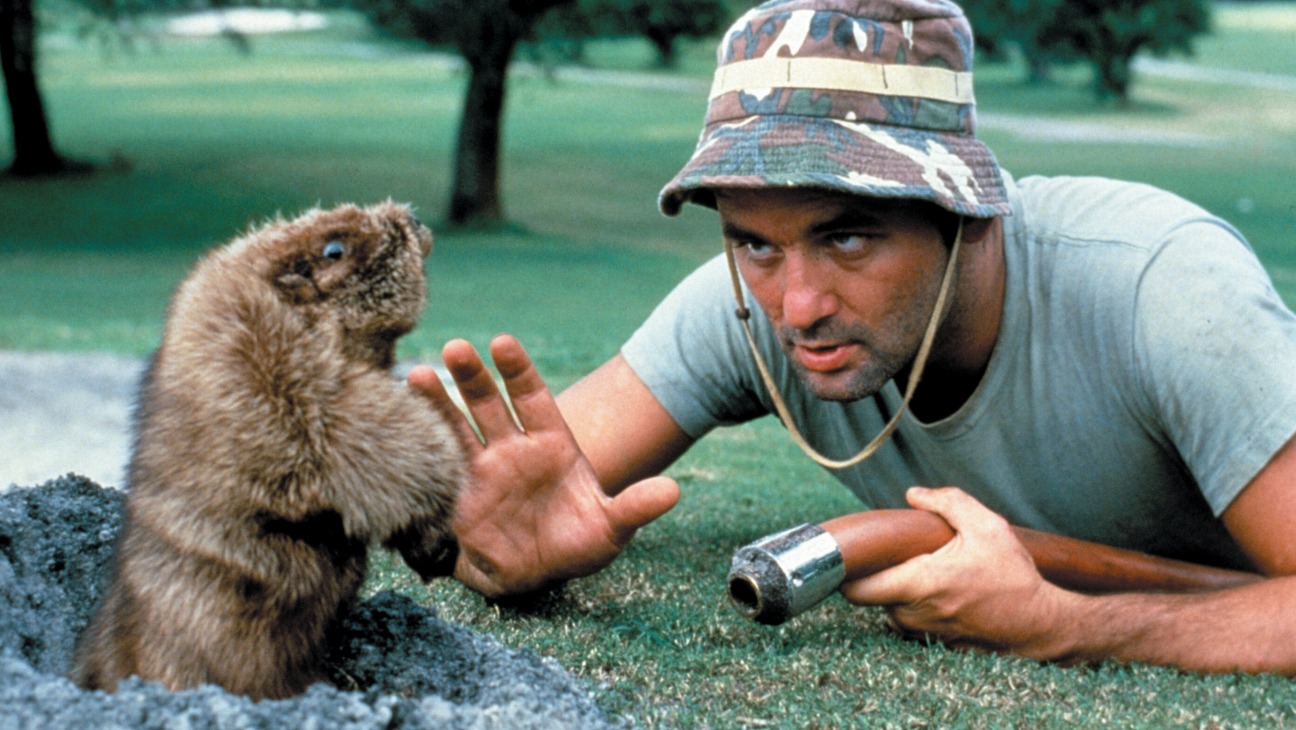 Kevin O'Connell (Quincy, MA) & Sopheap Porng (Hyde Park, MA)
Two hacks hoping not to completely embarrass themselves.
Fritz Deichert (Dallas, TX) & Rob Owen (Boston, MA)
Too weird to live, too rare to die!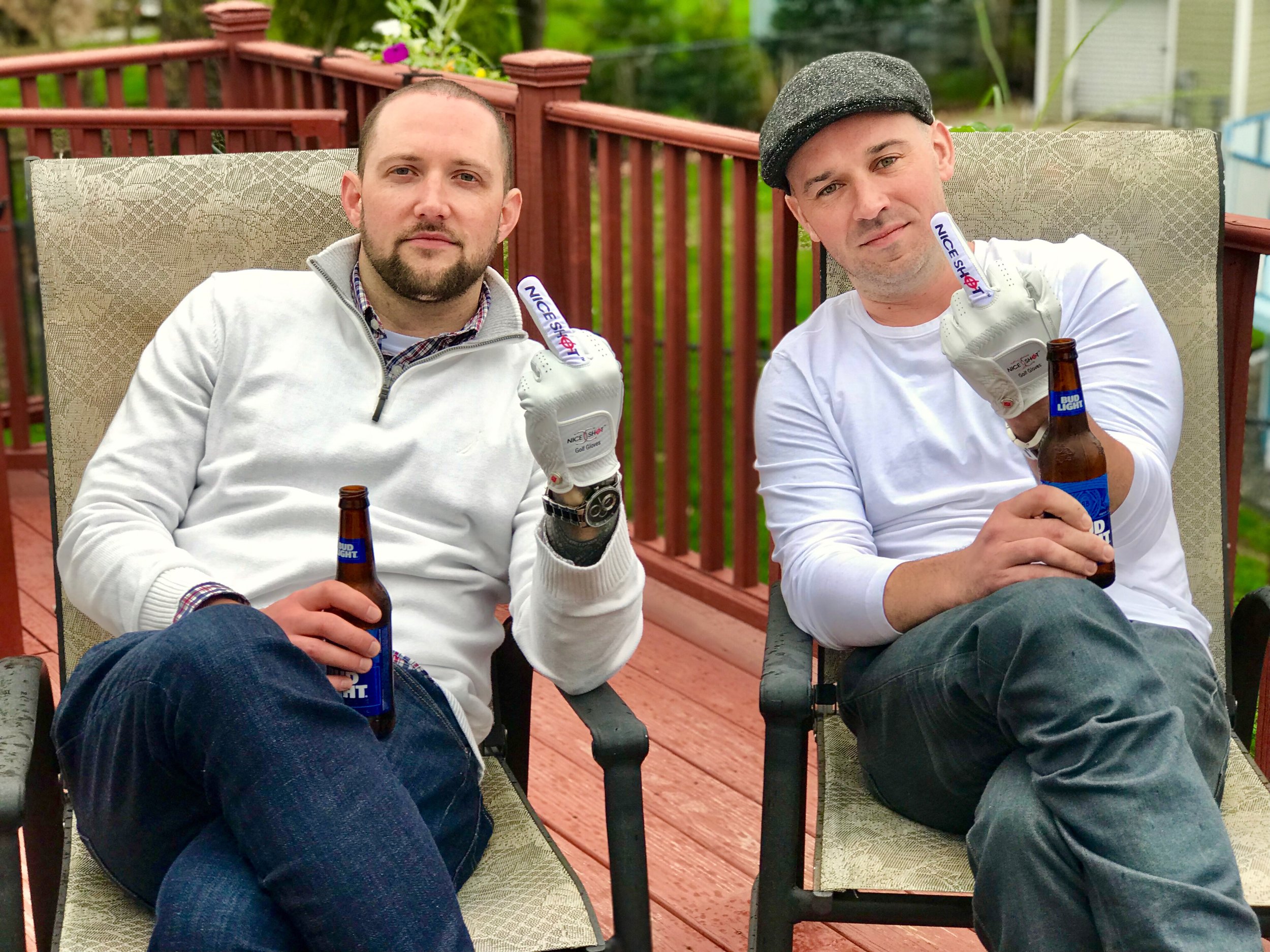 Adam Chicoine (Watertown, MA) & Dave Moran (Wakefield, MA)
Flippin' the bird and thinning the herd.
Dan Biscoe (Boston, MA) & Devin Greaney (Hoboken, NJ)
We came here to do two things, make some birdies and drink some beer. And it looks like we are almost out of beers...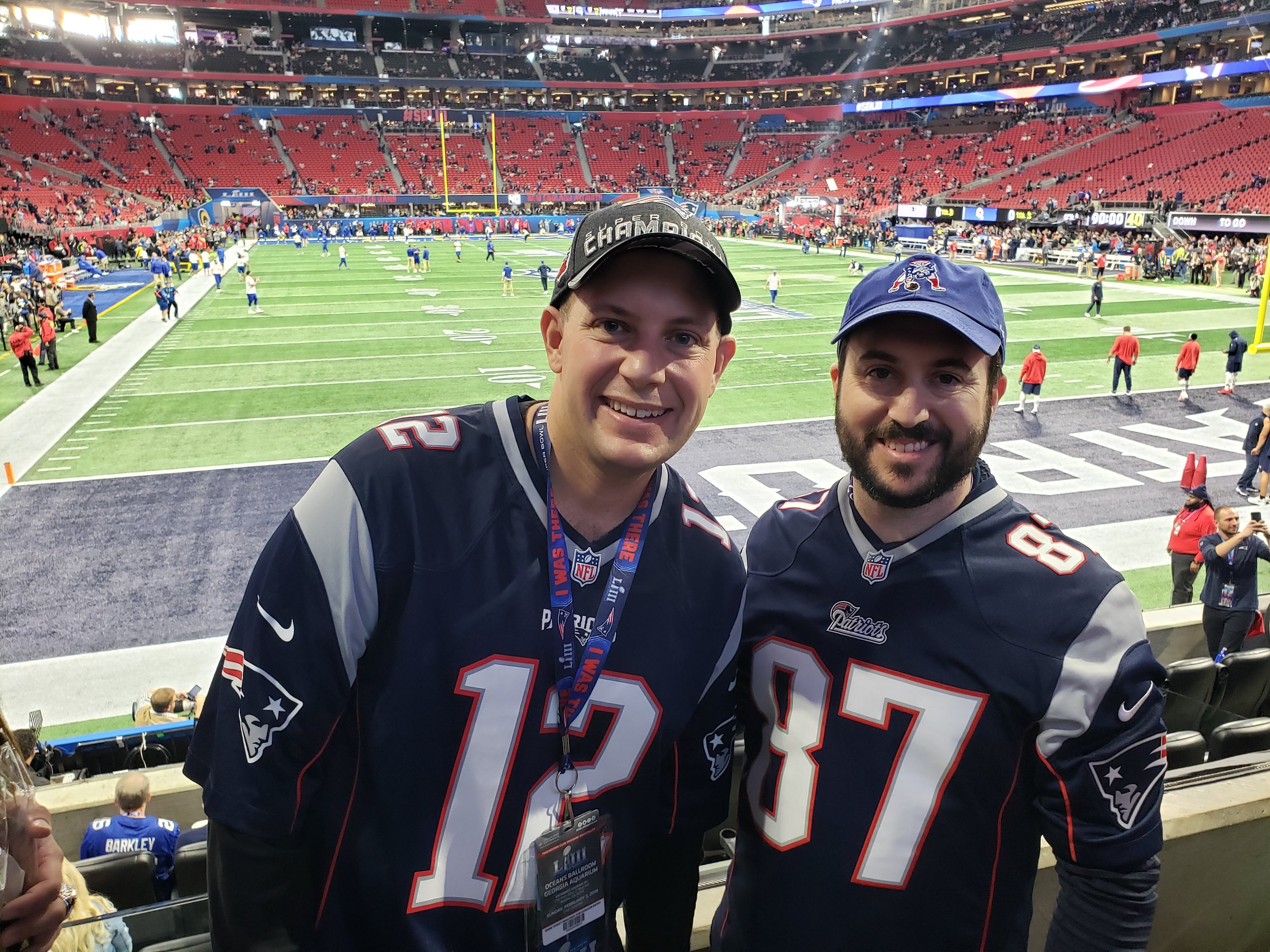 Lee Schneider (Boston, MA) & Brian Singer (Needham, MA)
The only thing better than seeing the Patriots win another Super Bowl might be winning the Barstool Classic.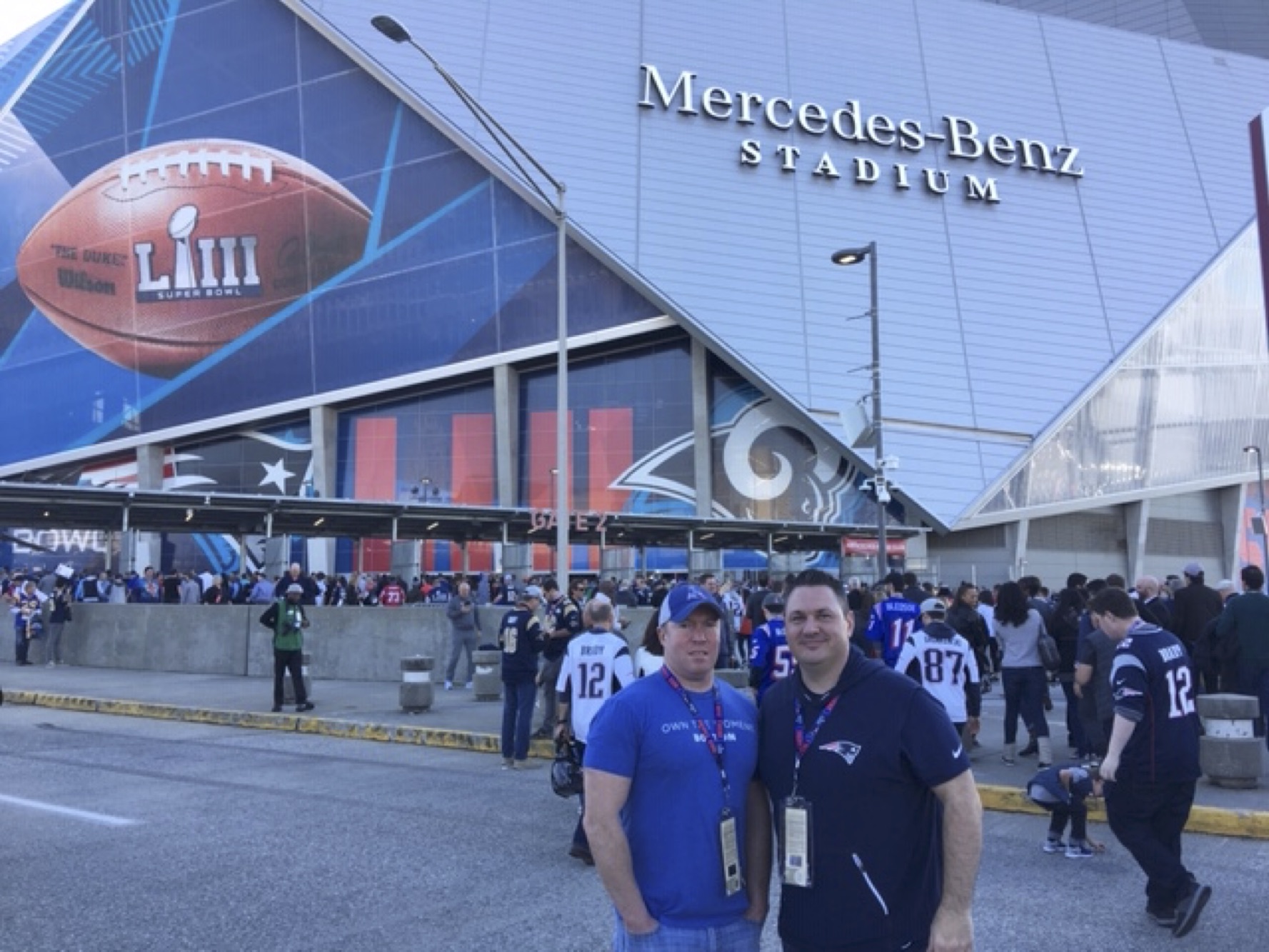 Jeff McNaught (Melrose, MA) & Tim Killeen (Melrose, MA)
Not here expecting to win it (at all) - just to have a good time hanging out with some Stoolies and play a great course! Both hail from Melrose, MA. #LFG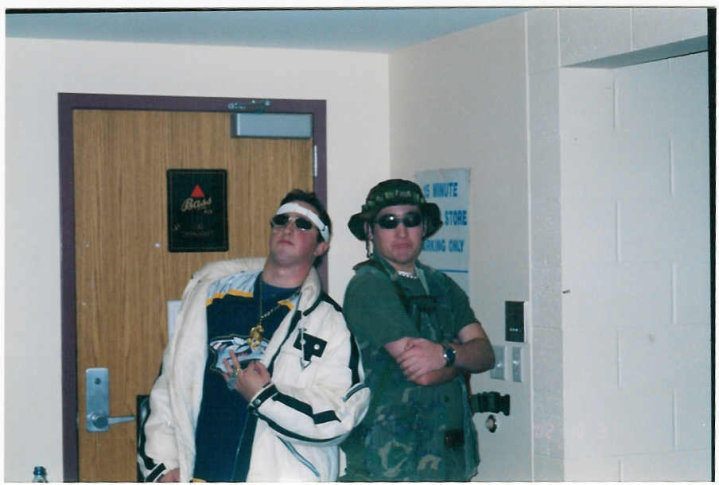 Ryan Marsh (Westwood, MA) & Mike Bruyette (Canton, MA)
Doug and Skeeter met at freshmen orientation in 2001 at BC as young boys, lived together for four years in college, traveled abroad to Ireland (Doug) and England (Skeeter) in 2004, moved out to San Diego together in 2006 and now are old men who live a town apart, with wives and kids, and play their golf out of the Cape Club of Sharon.
John Renda (Boston, MA) & Jared Dabrieo (Woburn, MA)
Shoot em straight.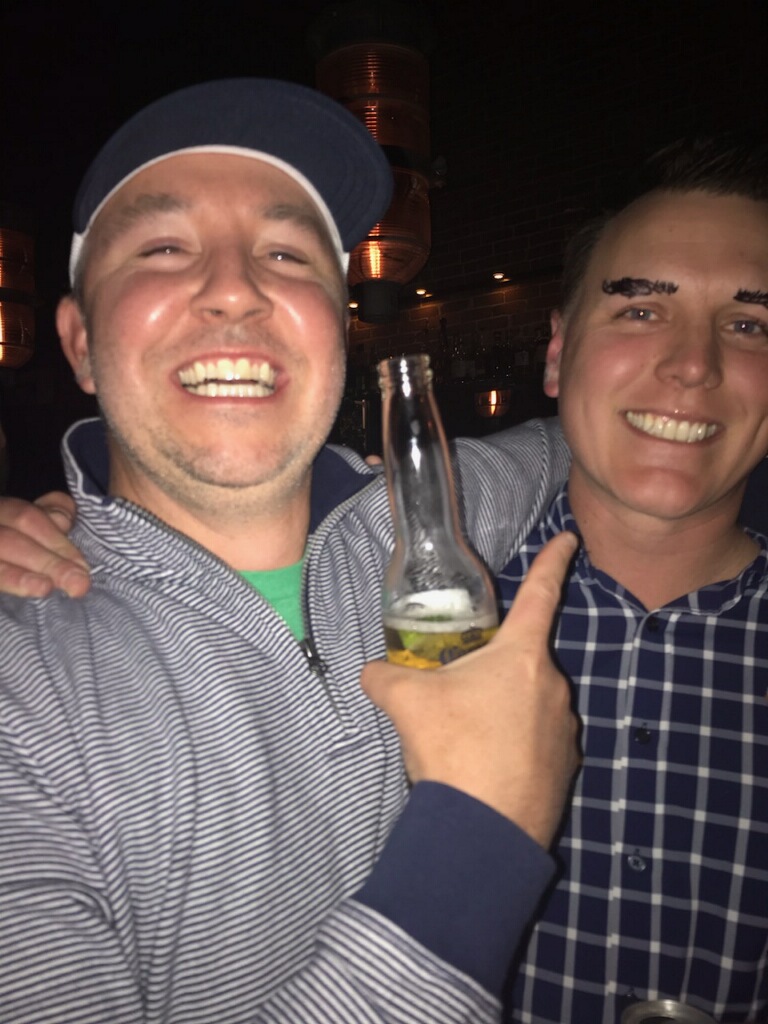 Friends since High School and now grown adults with families, jobs, and such. We commonly try too stay in tough via golfing together with friends and then talking trash about said golf to each other after the fact..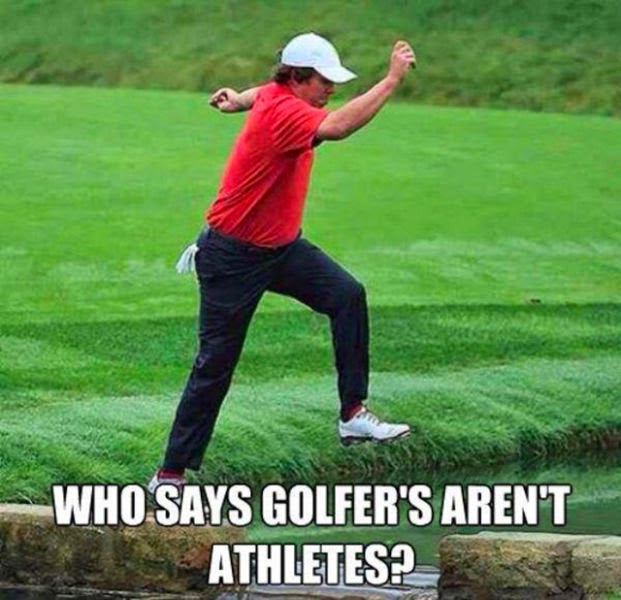 Warren Richmond (Acton, MA) & Patrick Maxey (Weymouth, MA)
Just a couple of hard seltzer enthusiasts who happen to play golf.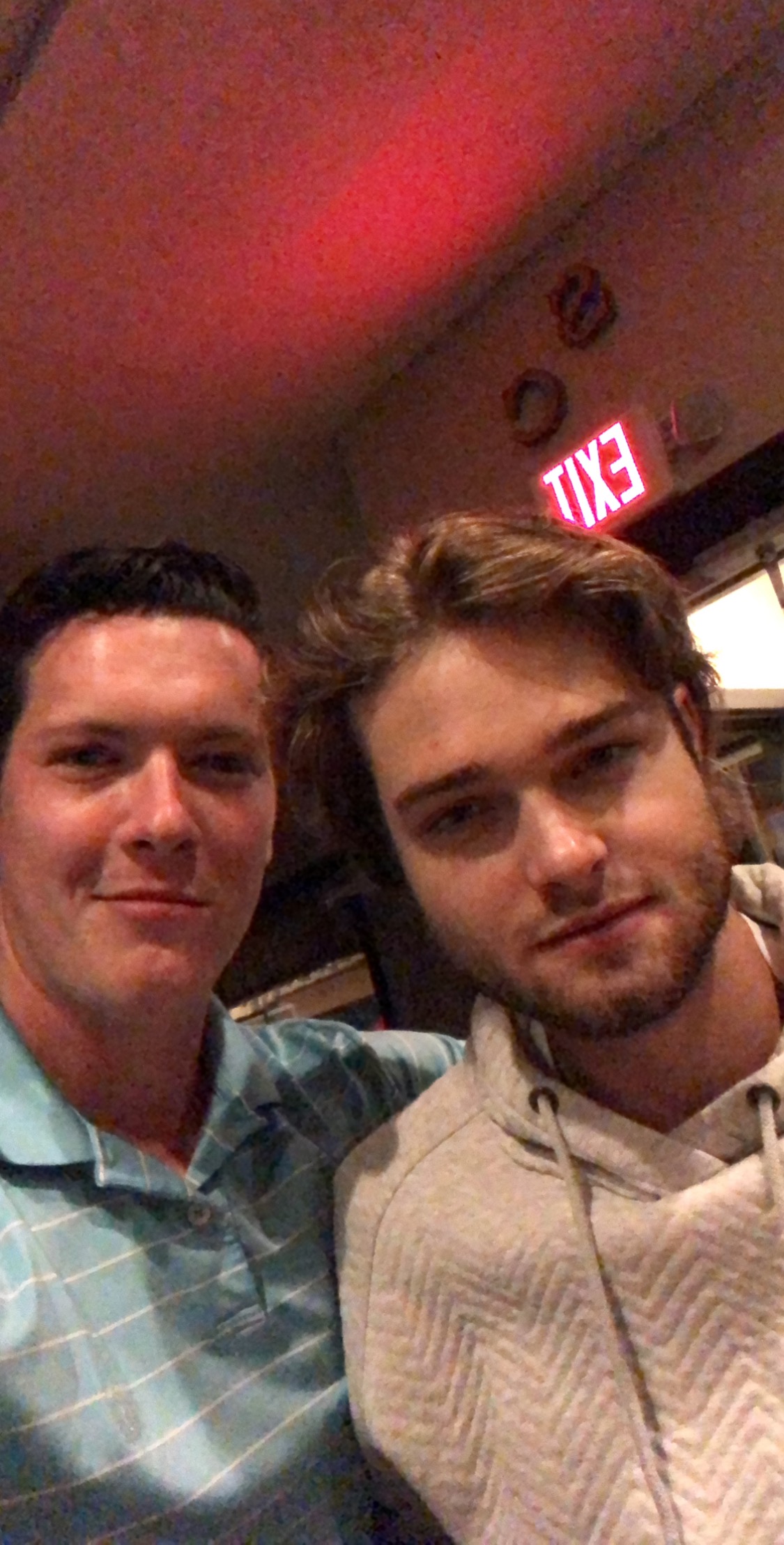 Sean McLaughlin (Troy, NY) & Matt Horton (Saratoga, NY)
From a small town in Upstate New York, Matt Horton and Sean McLaughlin have been playing golf together for years. They're both looking forward to competing in the Barstool Classic and taking home some cash.
Garrett Long (Rumford, RI) & Beau Jacques (North Attleboro, MA)
No bio. Be better.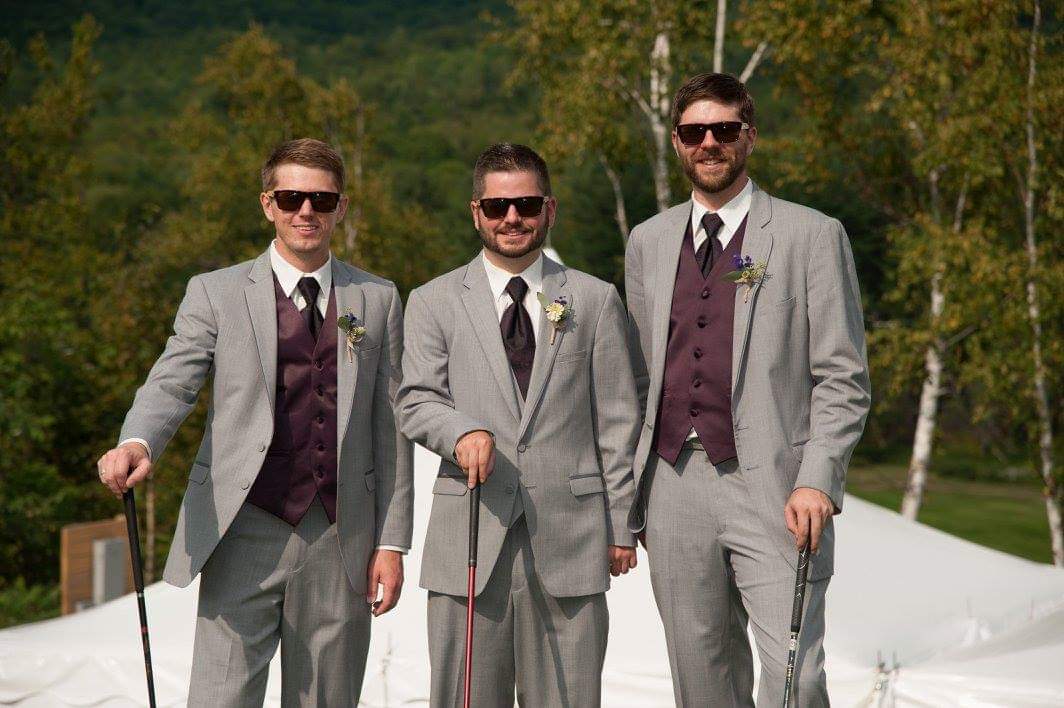 Michael Kinchla (Westford, MA) & Erik Robinson (Westford, MA)
Even if we aren't making pars, we'll always make a scrambling bogey for the Schmidt dog.
Brendan Sweeney (South Boston, MA) & Patrick Sweeney (South Boston, MA)
Cousins on Third Street in South Boston.Grew up playing hockey, but built our mental toughness wondering if we'd get mugged on every tee box at Franklin Park.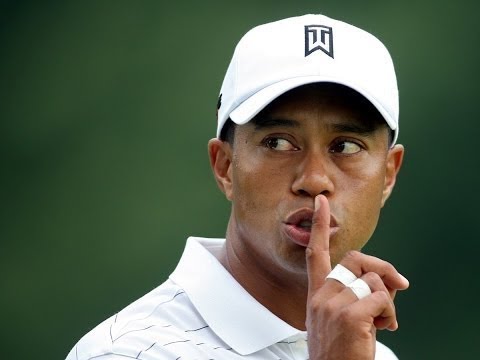 Taylor Johnson (Cambridge, MA) & Joe Klingensmith (Topsfield, MA)
Taylor & Joe est. 2019 in Boston Massachusetts is a young dynamic golf team consisting of one really good golfer (Joe) and one incredibly mediocre golfer (Taylor). Together they create quite the wild combo never knowing whether the next shot is in the hazard or the hole. Best known for their outstanding performance at the 19th hole, these boys are always a joy to watch.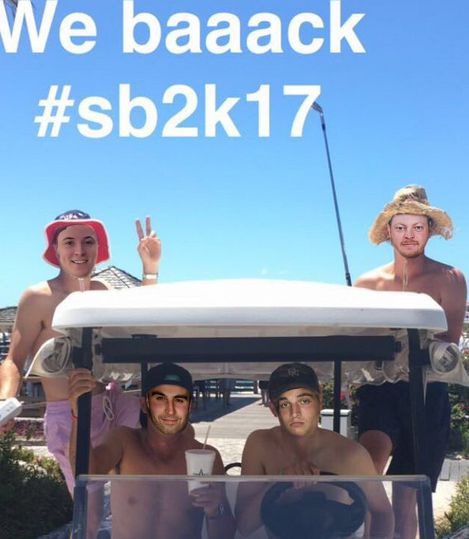 Avery Gibson (Needham, MA) & Aram Ouligian (Needham, MA)
We are the Kings of Splash, the Great Slambinos, the Sultans of Swing! Couple of Needham boys out here hitting a small white ball with a metal stick. Came for the Classic, staying for the transfusions. Not happy until we walk away with the title... see you on the links boys.
Mark Dondero (Medfield, MA) & Eric Loh (Avon, CT)
Back when they were young and fun Mark Dondero and Eric Loh were teammates on the Bryant University baseball team. Since then both have gotten married, had kids and now find joy in simple activities like plowing snow off of the driveway with a machine. Both men also work in the media, Eric has been to more College Football National Championship Games than Dabo Swinney while working as an executive at ESPN. Meanwhile Mark hosts the #BostonSportsPost daily online video blog as well as a show on the WEEI sports radio network. Mark has also made Bill Belichick laugh at his press conferences more than anyone else in history.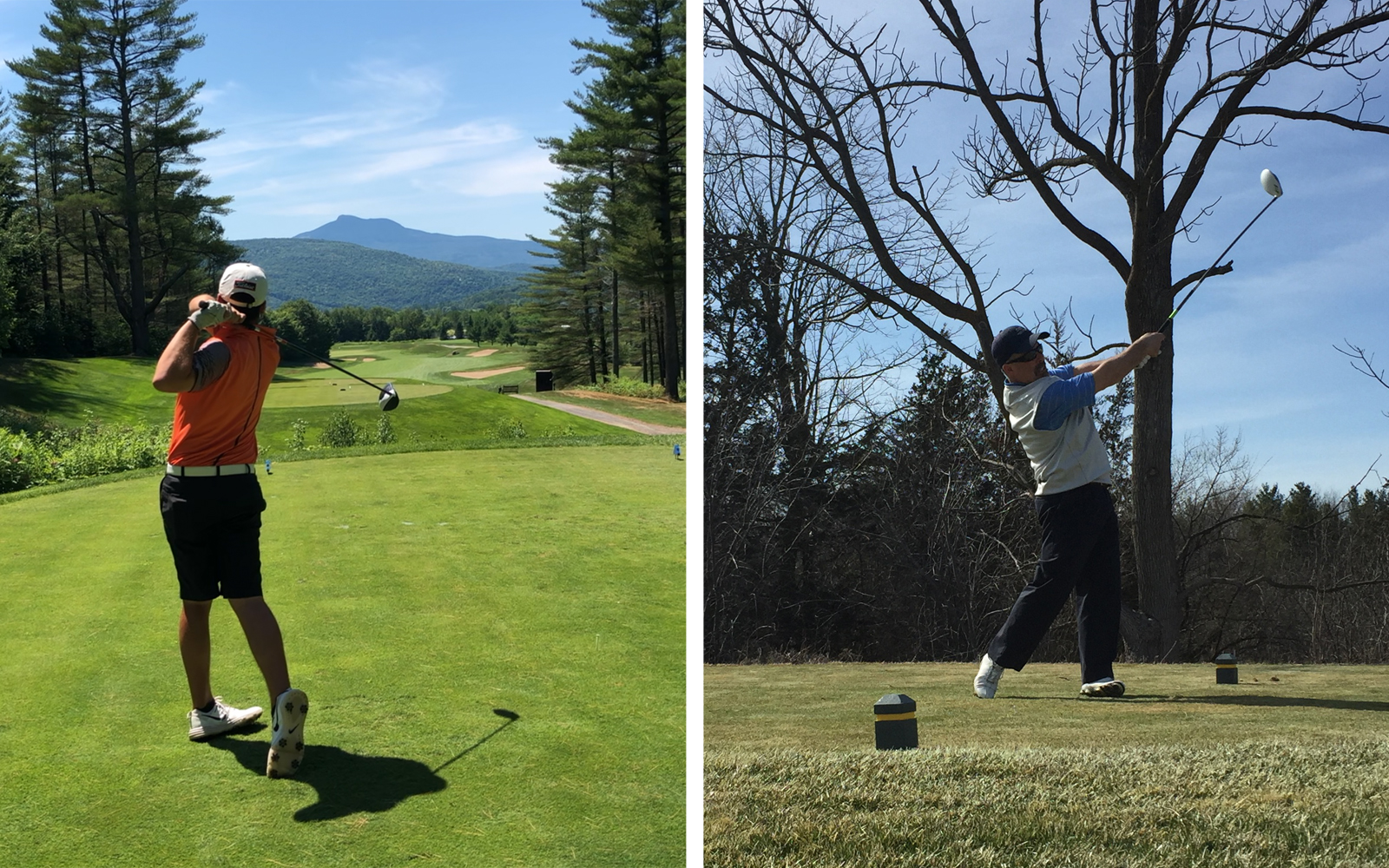 Ryan Manley (Essex Junction, VT) & Mark Manley (Essex Junction, VT)
Father-son duo from Vermont.
Chris Shirley (Milton, MA) & Randy Green (Champaign, IL)
Two dudes from Urbana who like to golf.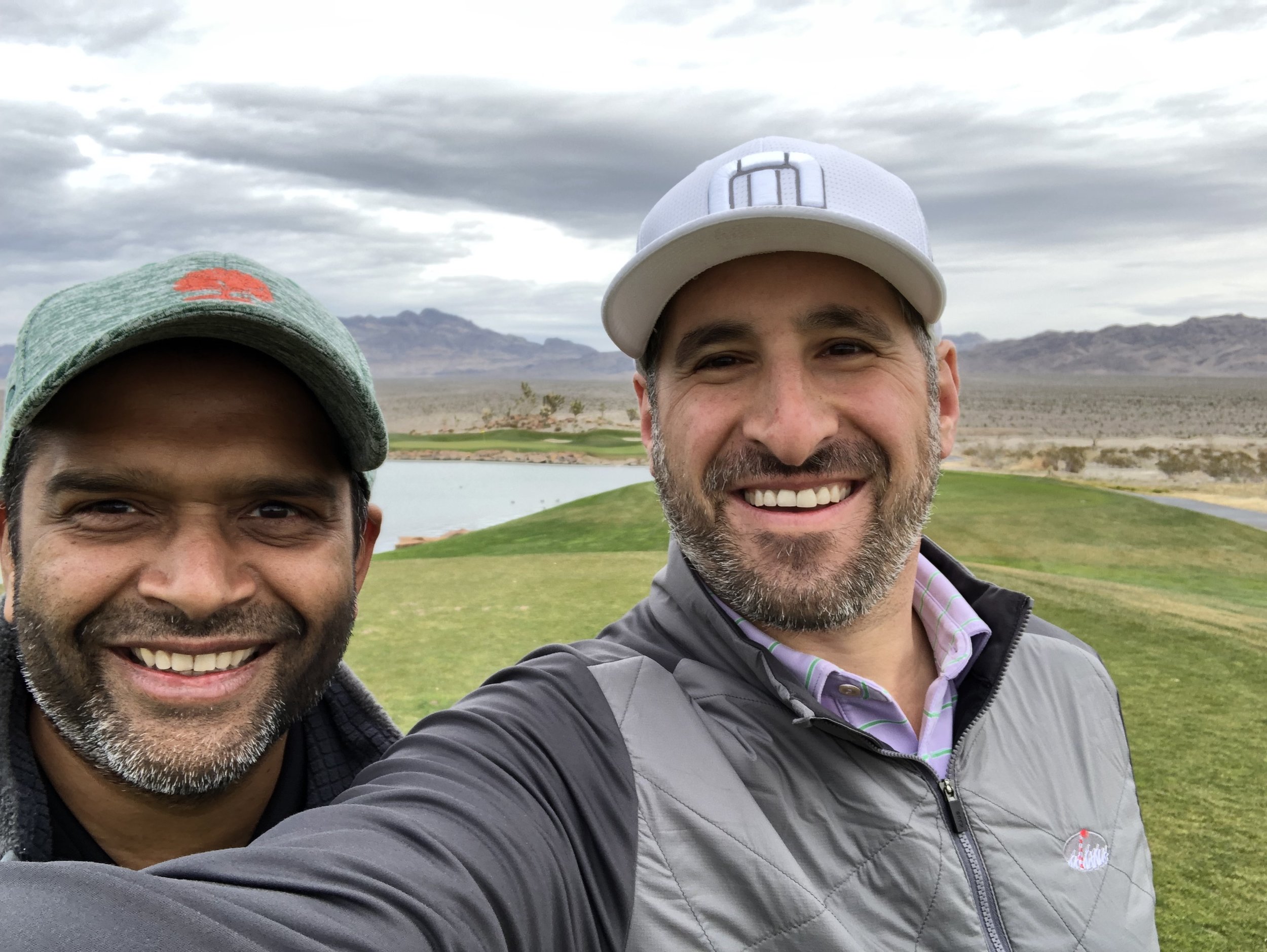 Andrew Nigrelli (Weston, MA) & Paresh Patel (Weston, MA)
The team from the Official Charity Partner of The Barstool Classic at Wollaston. Never too old…
Just a couple Kentucky boys trying to get our own barstool podcast.